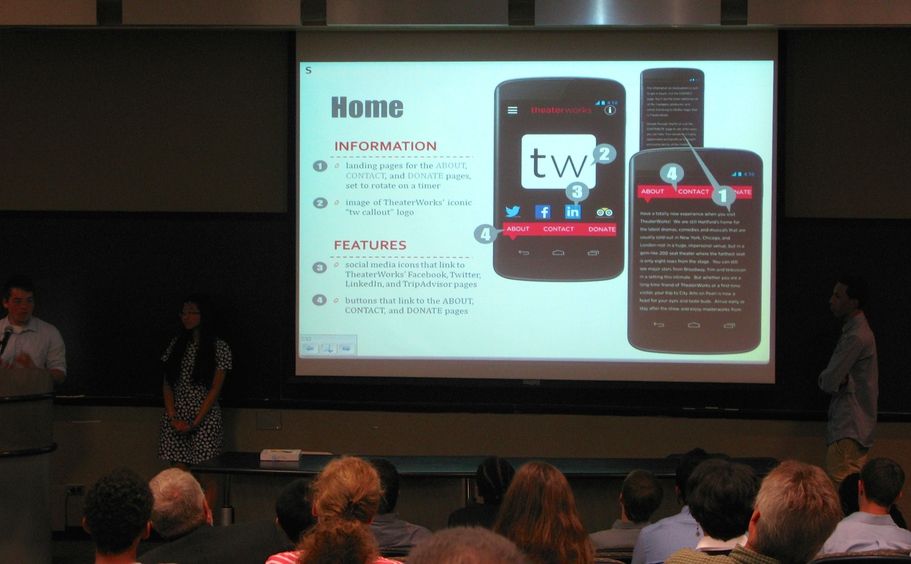 The Mobile Apps for Hartford Program, Professor Ralph Morelli said, was about "getting students to see their power when they learn to code."
Those twenty students from across Connecticut also earned stipends this summer.
Five teams created six apps (a fancy term for program) during a six-week session at Trinity College. At the end of the program, students learned that they would be able to keep the tablets that were on loan to them during July and August.
One team created a mobile version of the TheaterWorks website, consulting with the client to figure out which information needed to be included. This app provides details on the current schedule, information on how to reserve seats, driving directions, and even recommended restaurants within six blocks of the Pearl Street venue. Freddie McInerney, the Communications Director for TheaterWorks, said she was "awesomely impressed" by the students and the process.
A team working with the Old State House developed a Hartford Area Tour app designed to help visitors learn about and find forty sites they have designated as "iconic." The students explained that they learned a little about copyright law in the process, finding that they actually are not able to just take photographs that they find on Google. This forced them to go out to each site and take photographs so that they would have images to use.
One team worked with the City of Hartford's Department of Families, Children, and Youth to develop an app that is essentially a mobile calendar for events. The same group worked with RiseUP to make a mobile version of the organization's website, allowing users to find out about upcoming events and register to volunteer. Rasheeda Samih, a student on this team, said it was "exciting" for her to "work with the City."
Mayor Segarra was one of the clients, who worked with students on an app that initially will only be on a kiosk within City Hall. When visitors walk inside the building, they will be able to find information about where in City Hall they need to go. They will be provided with directions for how to get from the kiosk to the location within the building. One of the challenges of this project was that there were no current maps of City Hall in existence. It was up to the students to figure out where everything was located.
A fifth team worked on creating an app for the YOUMedia section of the Hartford Public Library. The aim of this is to create an incentive for teens to visit the library. Youth can scan a code upon entry and earn one point per visit per day. After accumulating points, teens can exchange them for prizes like snacks, earbuds, flash drives, and the chance to name something in the YOUMedia center.
Mobile Apps for Hartford stems from the Mobile Computer Science Principles program funded by a National Science Foundation grant. The program aims to get more females and under-represented minority students interested in Computer Science.