Becoming engaged in the community means finding it nearly impossible to imagine living anywhere else. Willimantic is the one place that emerges as a substitute in the event of us being chased out of town. Just as there are people we meet whose lives impact us deeply, there are places we have lived that do the same. Willimantic is one of them.
Willimantic, located 28 miles from Hartford, is a section of Windham. When people in that area want to disassociate themselves with the little city, they make it clear that they live in Windham, which is spoken with a certain tone of voice, like when people around here want it known they are not from Elmwood.
Already feels like home.
Willimantic has been called the "Thread City" because of its onetime booming textile industry. Like many industrial towns, it has since collapsed. This does not, however, mean that only ruins remain. The city evolves constantly. Besides major industry, there have been changes in the smaller employers and ventures. In the late 90′s they had a local currency, Thread City Bread. There was also a vegetarian eatery and small cinema. Though some things have changed, others have been constant.
There is plenty of free, well-marked parking. Find it, leave the car, and go exploring.
The Willimantic Food Coop is what a grocery store should be. A trip here is part practical, part community-growing. The coop began as a buying club in the early 1970′s, evolved into the coop in 1980, has stuck around perhaps because it is so community-centered. Anyone can shop here, but members receive discounted prices and have a say in major changes the coop considers making. When some wanted meat to be sold here, the decision was put before members. During the 90′s, before Michael Pollan grabbed everyone's attention with his writings about sustainable eating, the Willimantic Food Coop was providing information about GMOs.
Besides the regular things one expects from a grocery store, they carry many local and organic items. Really local. Much of the produce and dairy comes from neighboring towns like Hampton, Lebanon, Colchester and Storrs; they carry Hosmer Mountain soda, bottled in Willimantic. They even provide information about how to tour the farms where they obtain food. Does Whole Foods even come close?
Not far from the grocery store is The Lily Pad, an art supply store that has also been in the community for decades, which is not surprising given the supportive environment for the arts. Right now, A Steampunk Reliquary: A Cabinet of Curiosities: The Jewelry of Ann Pedro is on display at the Windham Textile & History Museum on Main Street. There is also a theatre guild in town.
Though Willimantic is small (approximate population 17,000 ) it is able to sustain a bike shop — Scott's Cyclery. Closer to Mansfield is the East Brook Mall, which is nothing to get excited about, but across the street from that is The Hoot, a whimsical gift shop.
There are a few restaurants, but a newer addition to the mix is Cafémantic. Past coffee and sandwich shops in the area have been fine as far as quality, but at times disorganized when it came to making the experience accessible for patrons. Cafémantic has decent vegetarian options, lots of seating, and is totally chill.
To just explore without spending money, check out the bridges. There is a pedestrian footbridge which crosses the railroad tracks and the Willimantic River. It's also required that you check out the Jackson Street bridge, also called the Frog Bridge.
How will you know if you've found it?
You'll know.
Part of the Air Line Trail, by the way, can be accessed from Jackson Street.
The annual Victorian Days celebration features tours Victorian houses. Lots of 'em.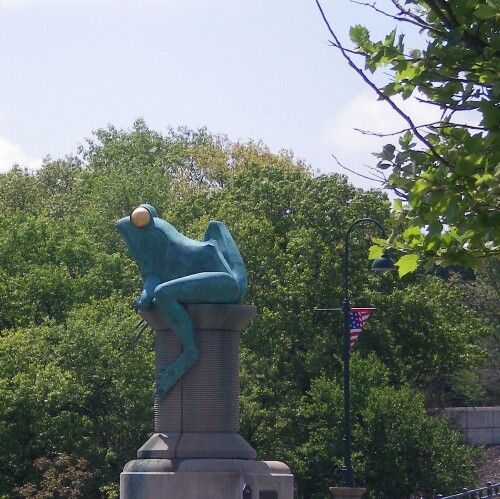 Willimantic's Third Thursday Street Fest is what Hartford's First Thursdays should be. They shut down Main Street for the early evening once a month from May-September. There are seven stages erected over the space of five blocks. Food vendors, tables of information, children's activities, entertainment, and people in general good spirits. It's suggested you arrive on the early side so that you do not have to struggle to find parking. Admission and parking are free.
The Boom Box Parade is one of the more interesting Independence Day celebrations we have seen. The 27th annual one will take place on July 4th at 11. The history: in 1986 they could not find a marching band for the parade, so in its place, a resident organized some participants to carry radios tuned to a local station. This is what happens every year now. If you want to be in the parade, you can start queuing up in Jillson Square around 9; it is not necessary to register in advance. The closest approximation to the Boom Box Parade would be Hartford's Hooker Day Parade.
It shouldn't be surprising that Eastern Connecticut State University is in walking distance of Main Street. Colleges integrated into cities energize the local economy. Besides the larger university, there is a branch of Quinebaug Valley Community College on Main Street. Another thing that helps: ECSU has a Town-Gown Committee that holds regular meetings to address concerns. Addressing problems as they arise, rather than only when things completely blow up, helps to foster community.
Just outside of Willimantic is the Mansfield Drive-In, one of the few such places remaining. Starting June 15th, they will be showing movies nightly. On Sundays from 8-3 these grounds are used for a large flea market. Even when the films are terrible and there is a rain storm, it's still a great time.
For a more active adventure, go to Mansfield Hollow. It's beautiful and receives a lot of use, though the hiking trails are quieter than the fields and picnic areas.
3 Responses to "Beyond Hartford: Willimantic +2"