Speaking with photographer Jasper James was worth the price of admission. He showed me video of the animals he photographed, told me stories of his numerous trips to Alaska, and was all around good-humored. James is just one of the couple hundred artisans showing and selling their work at this weekend's Sugarloaf Crafts Festival.
The vast majority of work showcased was not of the schlocky variety that one tends to find at county fairs and most of the prices seemed reasonable. There were many jewelery booths, some of which featured the artists at work. Other items for sale: gourmet foods, shoes, clothing, woodcrafts, awesome metal sculptures, photographs, pottery, glass, and more.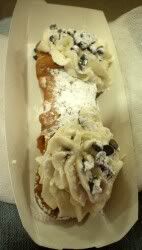 This cannoli could take on any found on Franklin Avenue. That they used chocolate chips instead of nuts was a bonus for me. I would suggest splitting it between two or more people though.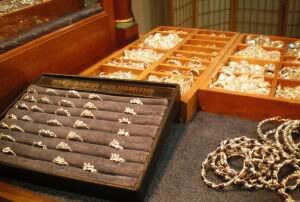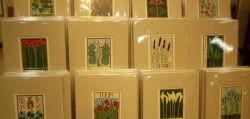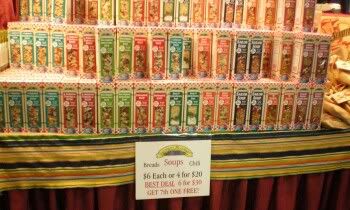 I have two free passes to give away for entrance on Saturday or Sunday. Please, take them. I had a budget and did not stick to it, so it's best if someone else goes to the craft show. The last time I went to one must have been in the age of "sorry, we do not accept debit cards. Cash only." If you would like one or both of these passes, please leave me a comment. You are responsible for picking them up at a location in Hartford. The festival is at the CT Expo Center located at 265 Reverend Moody Overpass: Saturday 10-6 and Sunday 10-5pm; parking is free.
One Response to "Lend me Some Sugar, I am Your Neighbor"