With Valentine's Day approaching, and with a close friend going on a top secret date which led to discussion about what makes for a great or horrible date, and with an acquaintance asking me last night what I like about Hartford, I write this report on what I think makes for a (nearly) perfect night out.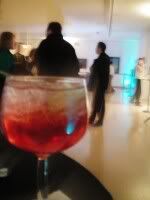 Before riding my bicycle to the Wadsworth Atheneum, I began by having an impromptu conversation with my neighbor and was then joined by another resident on the block. There was a fire in a nearby house early Thursday morning, so we were all updating each other and feeling grateful that nobody was injured.
Upon arriving at the museum, I had my choice of parking spots: an entirely empty bike rack that meant my walk from parking spot-to-front door was under thirty seconds. After stashing my helmet and jacket inside one of the museum's lockers, I grazed from the snack table and listened to the dj. When he was there a few months ago, I did not care much for his musical choices, but he had selections from an entirely different genre this time. Friends and friends-of-friends trickled in; among them included Jude, who writes about the MATRIX exhibit far better than I could. When I first began visiting the museum in the 1990s, the MATRIX was among my favorite sections of the Wadsworth.
I was pleasantly surprised by a Hartford City Ballet performance. It would have been even better had the performance happened on a raised stage where everyone in the audience could have a view of the dancers' feet (sort of crucial part of the art). I have only recently begun seeing advertisements for the ballet, and am considering seeing a full performance by them next weekend. They are headquartered on Park Street.
When I decided to move on for dinner, it was not a moment too soon because the dj decided to play Lady Gaga. Yoko Ono or Bjork would have fit the cutting edge/light theme better.
We had a quick ride over to bin228 on Pearl Street. Again, a lamp post directly in front of the dining area ensured that we were mere steps from parking-to-front-door. We were seated at a cozy corner table. We had the tomato, mozzarella, basil bruschetta, the oven roasted vegetables and goat cheese panini, port, and berry budino. All facets of that meal come highly recommended, but the dessert was what left us both a little stunned. It had berries, biscotti, marsala, and mascarpone. If you are looking to impress someone on Valentine's Day, set her up with the berry budino. If she does not like this, take that as a sign it was not meant to be. I know the photo is less than flattering, but neither of us had the patience or willpower to take a number of photographs of the dessert when we really just wanted to eat it.
4 Responses to "On Any Thursday"