I've just purchased a home in the Frog Hollow neighborhood, so here's a photo tour to acquaint readers with my new surroundings: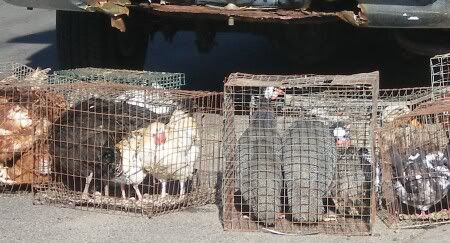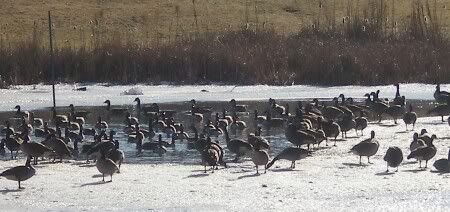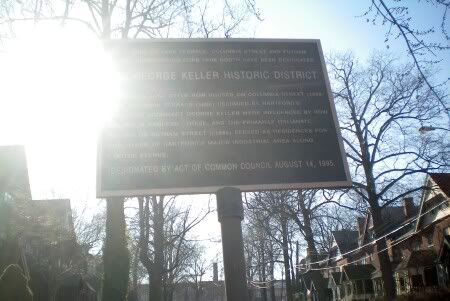 So, why and how did I choose to live here? When I began looking for a home I was primarily interested in the Frog Hollow,
Parkville, and Blue Hills neighborhoods, in that order. The only negative that I saw in Blue Hills is that it's not as centrally located to the places I typically visit. Still, there were two houses that I really liked up there. When I took a walk through one, the owner was home. She had lived in the house for decades and was telling me all about the neighborhood, who lived there, and whose grandkids still come to visit. She took a lot of pride in her home, as everything was in great condition, including her lovely yard. The house felt a little small for the price range, but I think that of all the home browsing experiences I had, this was the most meaningful. We live in a time when moving every few years is the norm; yet, that is not the life I want for myself. I was not approaching my large purchase as that of a "starter home" that I would sell when it becomes too small for me. I was looking for a place where I would be spending a few decades, where I might become that old lady in Blue Hills who knows the story of all her neighbors.
I only saw a few houses in Parkville. Most on the market in this area were multi-family homes or beyond my budget. As nice as having income from tenants sounds, that's more responsibility than I want. There was a property I liked in Parkville. It even had a garage with an electric door opener. I was not crazy about the street it was on, though.
I'm grateful for having a patient and intelligent real estate professional to work with throughout this process. There were some atypical elements about the transaction that I do not need to get into, but the process was made much easier because Amy was in constant communication with me during every stage of the sale.
My home is in Frog Hollow, which was my first choice neighborhood. When making tough decisions, I tend toward making pro/con lists. I never needed to make one.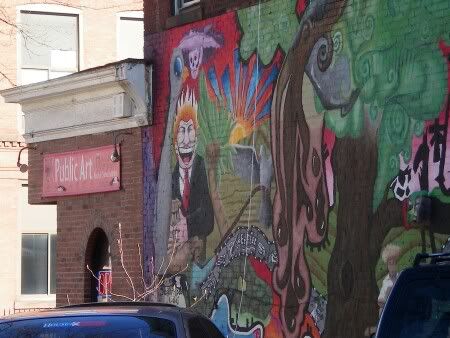 Frog Hollow is also referred to as Frog Holla, and by even fewer, Frog Challah. Frog Hollow, besides having a cool name, is a mere hop from downtown. This means that I can walk to work wearing heels! For longer trips or on especially cold days, I can easily get to the Park Street bus, which runs frequently, as well as to the Capitol Avenue bus, which runs not-so-frequently. On bicycle, I can literally coast to my favorite coffee shop, though friends have correctly pointed out that I would have to pedal uphill to return home.
My first evening in my home, I was actually greeted by three different sets of neighbors. This has not happened in a single place where I have lived before.
While my yard is but a sliver, I have lots of open space, two swimming pools, sports fields, a stage, playgrounds, and a carousel: I am about two walking minutes from Pope Park and five minutes from Bushnell Park. These parks have hosted carnivals, jazz and blues concerts, and fireworks.
The St. Patrick's Day Parade, Three Kings Day Parade, Hartford Marathon, Discover Hartford Bicycling and Walking Tour, and other major events take place within a block or two of my home. I can easily walk, bike, or take a bus downtown for work, for routine activities like visiting the library or City Hall, or to enjoy a Wolfpack game at the Civic Center. I won't have to worry about driving or paying to park my car somewhere.
I can easily ride over to the farmers' market at Billings Forge which runs year round. All along Park Street there are bakeries and food markets. A major supermarket is within a five minute walk from home. I also have a handful of friends in my neighborhood and fully intend to show up on their doorsteps at dinner time. Maybe they won't read this.
If I want to hear live music, I can go to La Paloma Sabanera, The Studio at Billings Forge, Red Rock Tavern, or into El Mercado for some mariachi. Just walking down Park Street I can hear old school hip hop, rap, and salsa cranking from stereos in the local shops.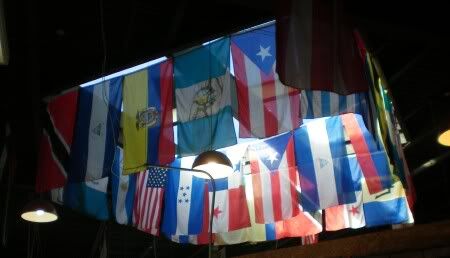 Park Street is a lively place to take a walk anytime, including on the weekend. Besides the markets and restaurants, there are hair salons, clothing stores, and even a hardware store. I can get kitschy President Obama artwork, football jerseys, and international flags, particularly the Puerto Rican flag, as a window decal. I can even find furniture.
The Billings Forge thing (see Jude's thoughts on this) has a lot going on. There is a sewing, knitting, and crocheting class for beginners, which I am going to try to take when I get more settled in. There's a book-binding class I may try eventually too. Years ago I took one in East Hartford and enjoyed it a lot because I was able to walk away with several finished projects. There are a few yoga classes, including one that meets early enough for me to attend before work. I can't seem to find the information right now, but I know I read that neighborhood residents can get a discount card for classes there.
Since I'm in the middle of moving in, blog posting will be light in the next few weeks as I settle in. In the meantime, check out the blogs listed in the blogroll on the right-hand side of the page.
10 Responses to "Welcome to Frog Hollow"