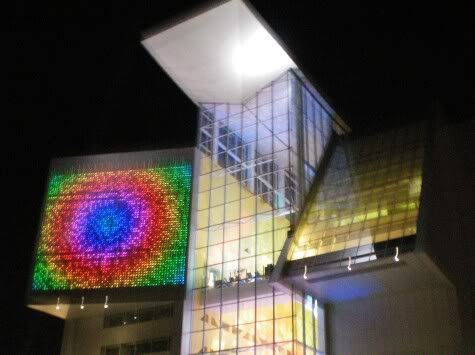 On Saturday, May 30th, the Connecticut Science Center hosted "Out of this World," a pre-opening celebration. You'll probably read plenty of fact-filled reviews and articles about the new center; let me guide you through the gala and science center with no attempt at objectivity.

These are the Pedals of Doom. That's not what the CT Science Center calls them, and despite the Pedals of Doom, I had a fantastic time. I'm beginning here because this is ultimately what I will remember most about my first visit to the center.
These pedals are hooked up to signs that show the horsepower in relation to the pedaling. Since this was a fancy event ("Attendees are encouraged to dress 'geek chic, scientifically stylish and futuristically fashionable'") I went in drag. My skirt and four-inch cute silver heels presented no problem until I reached the Pedals of Doom. Now, it's not very ladylike to use this machine while wearing a skirt, but finding out my horsepower seduced me into risking indecent exposure. While doing this, the selectwoman from a suburb watched on. This created some pressure, but I performed above my expectations.
The trouble came when I tried to remove myself from the machine. In a split second of poor judgment, the heel of my right shoe got wedged into the pedal. It was not budging. I panicked, thinking I would have to reside at the CT Science Center from then on because like hell was I going to abandon my cute shoes. It became a blur, but Julie of Live in Hartford blog, may have suggested that I take my foot out of the shoe. After a few attempts, I managed to yank my shoe loose. The amazing part is that it survived without any visible damage.
Like I said, even with the possible loss of my favorite shoes, I had a blast. If you read this blog, at all, you know that is a considerable statement. As a party, there was a lot going on. The dj was excellent, choosing quirky songs to set the mood. There were various performance artists throughout the building, adding color to the event; with tickets at $125 a pop, it's not too unfair to assume that most people willing and able to shell out that cash are going to be of the buttoned-up variety.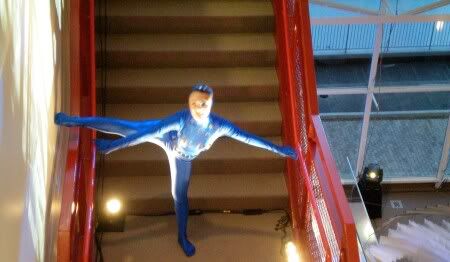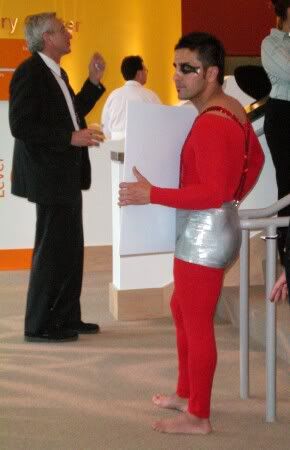 There were some local celebrities (or what have you) to be watched.


Former Governor Rowland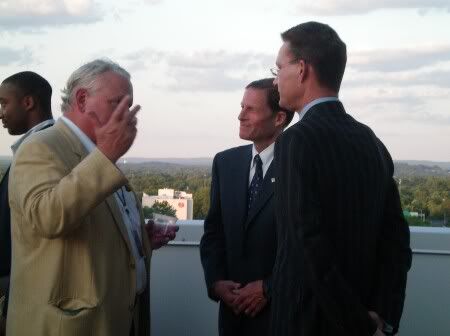 AG Blumenthal

WFSB's Scot Haney
They really paid attention to details, such as creative food and filled swag bags.

Among other things, my goody bag contained a rubber duckie.
The food and free stuff was not the reason any self-respecting geek would venture out to the opening of a new science center. Many of the exhibits are still under construction (the CT Science Center will not officially open until mid-June), but there was enough set up for me to get an idea of whether or not this would be worth the cost of admission later.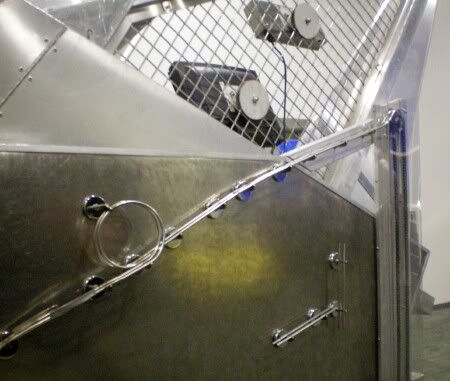 This interactive exhibit allows you to create your own coaster. It took me a few minutes to realize that this would be a roller coaster, and not a coaster for the coffee table. The pieces are magnetically held to the wall. I made a half-assed effort to create a coaster and got the results one would expect. This seems like something that needs more time and the use of both hands (i.e. not holding a camera, purse, and folder in one hand, while trying to nudge pieces along with the other) to really work.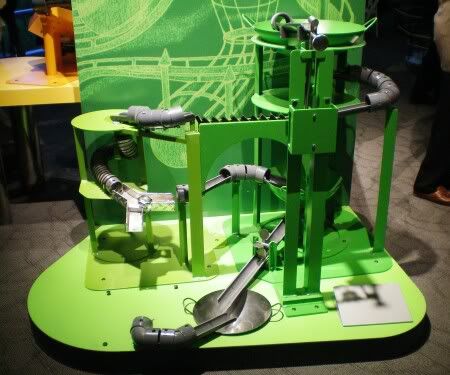 I don't want to ruin the element of surprise by posting too many photos of the exhibits; I do have to show some pieces of the signage. I like words. Do I really have to explain that?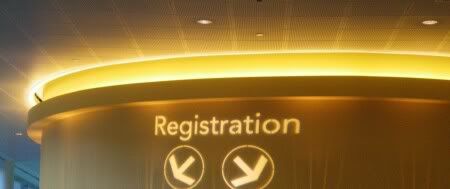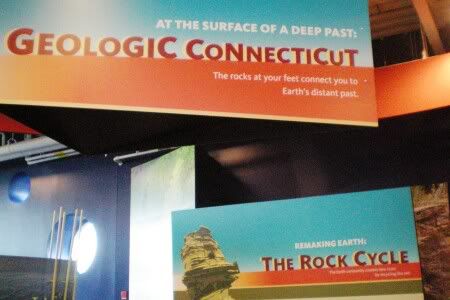 These are penicillin and e coli dolls. The gift shop is decent, meaning that there is (1) not junky items for sale (okay, there are some, but it's not the heft of the goods) (2) there is science-related merchandise that I have not seen at every other gift shop (3) there are some Hartford-related items for those of us who want to represent.


That's a picture of Julie representin' with a book about the circus fire.
By the way, they seemed to do an excellent job of hiring people for the gift shop. We were being loud and giddy; not a single staff member gave us the evil eye for breaking decorum. When children inundate the shop, this level of tolerance and patience will get put to even better use.
Here are a few more shots of "Out of this World" and the building. I have been fascinated by the actual structure, which has been reported as having a few roof-related setbacks. It's impressive from the outside, and equally impressive inside. The elevators are partially glass. The stairs go on forever. The one disappointment was that the ladies room (or at least the one near the gift shop) was not designed to look like the future. I suppose if there's a place to save money, it's in an area where practicality far outweighs aesthetics.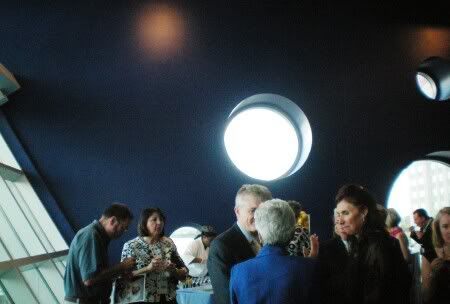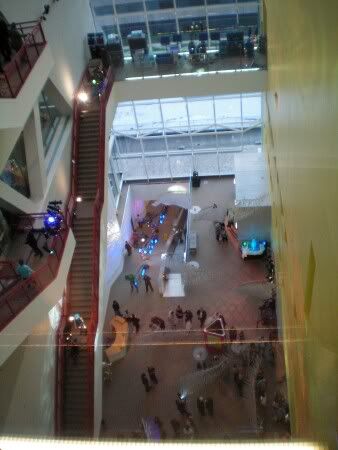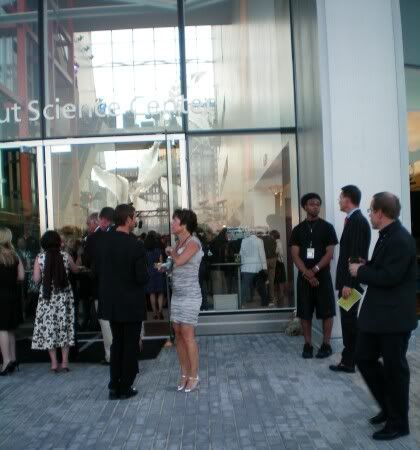 I can't resist the fun facts: "Some 95% of steel used in construction is manufactured from recycled cars."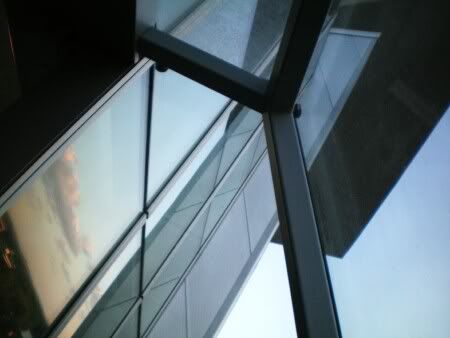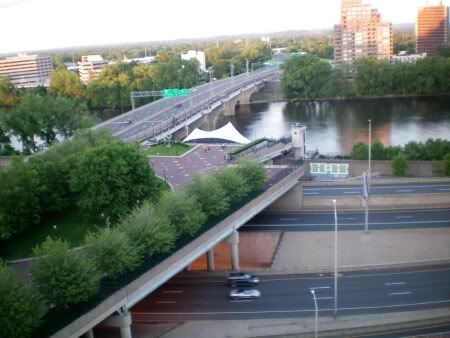 The rooftop garden, not planted yet, is "15 stories in the air" and will feature "grasses native to the Connecticut area."
As I left the Connecticut Science Center hopped up on adrenaline that rushes through me whenever surrounded by metal, brightly-colored things, and hands-on activities, I noticed that an enormous part of the building was lit like a rainbow target. It felt like stepping into Times Square for a moment. The lights were hypnotic. A kind police officer stopped traffic so that Julie and I could cross the street; he recommended we do so because the view was better from that angle. I'm not used to helpful police officers or intensely lit buildings. I know there are going to be haters, but this new addition to downtown really seems like another reason for me to be proud of living in Hartford. I can not say that about every development.
When the center opens, general admission will cost $16 for adults, $15 for seniors, and $13 for ages 3-17. Admission is free for those two and under.
Oh, and be careful if you decide to wear heels.
5 Responses to "Connecticut Science Center Blast Out of this World"